If you grow bonsai trees then I am sure you are already aware you will definitely have to buy bonsai fertilizer on a regular basis or if you are new to growing bonsai then it is something you will come to learn.
I enjoy growing bonsai as a hobby and I fully understand that using a good quality bonsai fertilizer is one of the most important factors to success.
Every time I need to purchase a new bonsai fertilizer I would spend quite some time searching the internet to find what I think is the best bonsai fertilizer for the money and one that actually works.
To save you all the time I have spent searching the internet I have made this best bonsai fertilizer for sale article where I give a roundup of what I consider to be the best fertilizer products you will need to have success in growing bonsai.
In this article, I have included different types of bonsai fertilizer products I have used at different times and they include:
Liquid Bonsai Fertilizer
Slow Release Bonsai Fertilizing Pellets
Organic Bonsai Fertilizer
Vitamins & Hormone Bonsai Products
Have a browse and I am sure this list will have every bonsai fertilizer product you need to have success in your bonsai hobby.
(There are affiliate links in this blog post, and if you click any of the affiliate links and buy the products, I'll earn a commission. However, this will never affect the price you pay.)
Bonsai Pro Fertilizer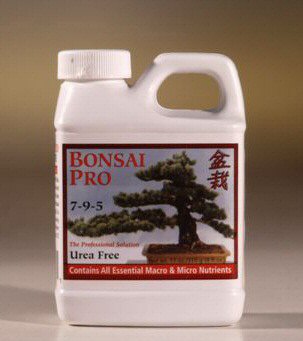 Bonsai fertilizer pro is my go-to bonsai fertilizer as it provides all the nutrients your bonsai will need and it has been expertly mixed to provide the perfect balance of the exact nutrients that will result in the healthy growth of your bonsai tree.
This is a bonsai fertilizer concentrate which means it is a powerful fertilizer that needs to be diluted and this makes it ideal for adding to water when you regularly water your bonsai tree.
It is called professional bonsai fertilizer because it has been professionally designed and formulated to contain all the macro and micronutrient minerals that your tree will need to grow healthy and strong.
I have lost count of how many bottles of this bonsai magic I have used throughout the years and that is why I highly recommend this fertilizer as your go-to product as it is also my go-to product.
This is a high-quality fertilizer for bonsai but can also be used as a fertilizer for other plants you grow in containers.
Highlights
Professional Standard of fertilizer
It's a concentrate so it needs diluted
Provides all the macro & micronutrients bonsais need
Just add to water as part of your watering routine
---
Seaplex Organic Seaweed Liquid Fertilizer
If you want to use a 100% organic fertilizer then this seaplex organic liquid fertilizer is an excellent option.
Lots of people don't even know that you can use seaweed for making fertilizer but it is packed full of nutrients that make it ideal for use as fertilizer.
This type of fertilizer does not directly feed the plant but what it does is feed the soil your plants are growing in.
The premium Ascophyllum nodosom brown kelp that is harvested from the clean water in north atlantic.
The nutrients that this fertilizer will provide include amino acids, enzymes, micronutrients, plant hormones including auxins, cytokinins, gibberellins, these components will reinvigorate the biology of the soil in your pot and turn it back into a soil that provides what your plants require for vigorous and healthy growth.
This bonsai fertilizer will encourage cell division, root development, and bud initiation making it more like a natural growth enhancer rather than standard fertilizer.
If you want a completely organic liquid fertilizer for your bonsai this may be the best option.
Highlights
100% organic seaweed fertilizer
Made from kelp found in the north atlantic
Reinvigorate the soil your plant grows in
Encourages cell division, root development, bud initiation
---
Miracle Grow Pour & Feed Liquid Fertilizer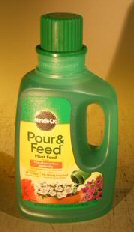 This miracle grow pour and feed fertilizer may not be everyones cup of tea but for a general fertilizer, it is a really great product.
I have used this many times because I normally have a bottle of it stashed somewhere because I can use it on many different plants around my home.
This is not a concentrated fertilizer which means you don't have to go to the trouble of diluting it to the correct strength which can save some time and hassle.
If you are using this miracle grow fertilizer the main advantage is you don't mix it with water and you simply just add the correct measure of fertilizer straight on to the soil.
To apply this fertilizer you simply fill the cap of the bottle and add it to the soil, however, you should always follow the instructions to make sure you use the correct amount.
It is recommended that when you use this fertilizer as part of your routine you apply it every 10 – 14 days for the best results.
Highlights
No need to dilute, simply add it straight on to the soil
Quality general use multi-purpose fertilizer
For the best results, you should use it every 10 – 14 days
The Cap Of The Bottle is a handy measuring device
---
Organic Rapeseed Cake Fertilizer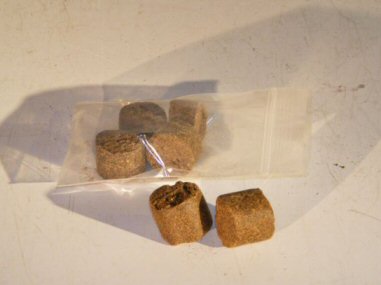 Rapeseed cake is an excellent way to fertilize your bonsai tree if you want to use a slow-release fertilizer so you don't have the constant worry about following a daily or weekly routine.
This rapeseed fertilizer cake is suitable for vegans to use as it uses no animal products including bonemeal.
This is a long-lasting fertilizer which makes it super convenient as you simply stick it in the soil and leave it, the fertilizer will slowly feed into the soil.
If you have an average-sized container you will only need to replace these cakes every 50 days during the summer (growing season) and every 100 days during the winter.
When you use these rapeseed fertilizer cakes they will not deteriorate so you just have to keep track of how long they have been in the soil and pull them out to replace them when required.
Highlights
Slow-release bonsai fertilizer
Practically impossible to overfeed your plants
Uses no bonemeal so vegans can use with peace of mind
Simply replace the cakes every 50 or 100 days (depending on the season)
---
Bonsai Fertilizer Pellets (Slow Release)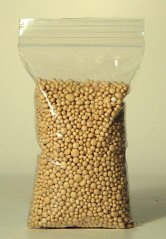 These slow-release bonsai fertilizer pellets are a really good option if you want to use a slow-release fertilizer which can be a bit more convenient than mixing a liquid fertilizer every time you need to fertilize.
The beauty of these fertilizer pellets is that they will slowly dissolve over time when you water your plants. This allows you to know when you need to add a new dose of pellets by simply looking at your soil and if there are no pellets left it's time to add some more.
To apply these pellets it is recommended that you simply spread ½ tablespoon of the pellets over the top of the soil.
When you apply these fertilizer pellets it should take approximately 2 months for them to completely dissolve in a slow-release manner that should constantly provide the nutrients your bonsai tree needs to grow healthy.
Ideal slow release bonsai fertilizer pellets for people who want to successfully grow a wide variety of bonsai trees and they can also be used on any other container plants.
Highlights
Slow-release bonsai fertilizer pellets
Easy to use simply sprinkle them over your soil
Pellets will dissolve so when you see there's none left its time to add more
Each application should provide approximately 2 months of fertilizer
---
Check out my article on fertilizers for fruit trees
Superthrive Vitamins & Hormones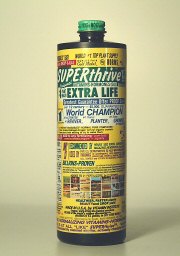 This Superthrive fertilizer supplement will supply 50 vitamins to your bonsai.
The bonus is that your bonsai will start to immediately feed off these new supplements almost immediately when you feed it to them.
This is not a stand-alone fertilizer, it's designed to be added into the fertilizer you use (or water if you use pellets, etc.) and it will add extra nutrients and hormones that will make your tree thrive.
This is an ideal supplement if your bonsai is stressed or struggling to grow healthy as it is designed to encourage your plants to start producing the correct chemical balance so that they naturally start to grow by themselves.
Try this supplement on other plants as well as it will promote healthy growth in any plants you use it on, so it won't only help with bonsai.
Superthrive is a gentle product so you can safely use it every time you water your plants and if you ever suspect you have used too much then simply give your plant more water to dilute the mixture.
Highlights
Supplement that should be used in addition to fertilizer
Adds nutrients and hormones that will encourage your tree to grow naturally
Use it every time you feed your tree or plants
Will promote healthy growth in all plants or trees, not just bonsai
---
Chelated Liquid Iron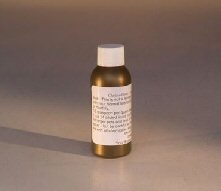 Liquid chelated iron supplement is ideal as a preventative measure or also as a cure if your bonsai is struggling.
If the leaves on your plant are pale green or yellow there is something wrong as a strong and healthy plant should have dark green leaves.
If you have diagnosed the problem that is preventing your plant from growing healthy as chlorosis then this is the ideal supplement for your plant.
The iron that this supplement will provide will immediately get to work and improve your plant.
If you just want to use it as a supplement to keep your bonsai as healthy as possible you should dilute ½ teaspoonful into the water and add it once per month.
Personally I do use this supplement as I feel it is better to use it as a boost to keep my plant healthy rather than wait until it is showing signs of iron deficiency.
Highlights
This is an additional supplement and not a fertilizer
Can be used to treat chlorosis in plants
If your plant has yellow or light green leaves this could be the solution
Can be used as a preventative measure to keep your tree healthy
---
Rooting Hormone Concentrate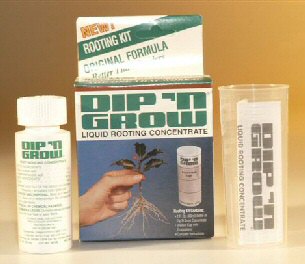 Drip n grow is the rooting hormone I use to create new bonsai out of cuttings, which can be a challenging but satisfying experience.
If you are making your own bonsai trees from cuttings then you will definitely need to use a rooting hormone if you are to have any chance of success.
There are many rooting hormones that come in powder form but I find this liquid rooting hormone is a better option and I have had more success when using it.
Because it is a liquid it is absorbed more quickly and easily into your future trees where it can start to boost the growth of the roots.
You should only use this rooting hormone on ornamental trees such as bonsai as it does contain chemicals that you may not want to get into your food supply.
When using a rooting hormone it will dramatically increase the chance of your trees growing roots however other factors such as the correct temperature also play an important role.
Highlights
Liquid rooting hormone is more easily absorbed than powder
When you successfully create a new tree it's incredibly satisfying
You should only use this rooting hormone on ornamental trees
Using a rooting hormone does not guarantee success if other factors like temperature are wrong
---
Organic Neem Oil Concentrate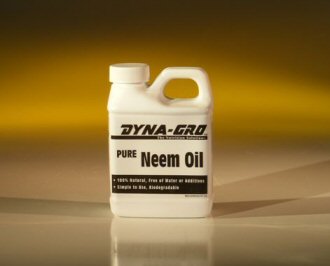 Organic neem oil comes from the mystical neem tree, a tree that has all sorts of uses in the environmental protection field and new uses are still being discovered.
When it comes to bonsai or gardening in general neem oil can be used as an organic method to control many diseases or problems such as black spot, powdery mildew, fungus, and a wide range of insect infestations.
This is a large bottle of concentrate so you will have to dilute it before you use it and you should add 4 teaspoons of the mixture per gallon of water.
One method of applying it is to use a spray bottle and if you use this method you should add some liquid dishwashing soap (yes dishwashing soap) as this will actually make it more effective.
Even if your plants do not have any problems currently it may be a good idea to use neem oil as a preventative measure as prevention is always better than a cure.
Highlights
Neem oil concentrate so you will need to dilute it before use
Can be a cure for many types of fungus, mildew, or blackspot
Neem oil can be used as a preventative supplement or as a cure
Can be used to fight off a bug infestation or problem
---
If you have reached the bottom of this article I hope you have found the products you are looking for in this best bonsai fertilizer for sale article that I wrote to save you time searching the internet. Please have a browse of some other useful articles on my blog.